With over 20 years of experience, we will get the job done right.
The Finest Contractors for
Siding, Roofing, Gutters, and More!
Under One Roof LLC brings you the finest remodeling contractors in Birmingham AL! We're a local company with world-class skills and are fully licensed, bonded, and insured. Thousands of our neighbors and community members have trusted us to get the job done right the first time. We continue to improve our techniques, business model, and training over the years to ensure we're always bringing an excellent job and the best experience. We hope you'll consider us for your next repair or update.
Under One Roof provides a wide variety of remodeling services. Our focus is on roofing, siding, and gutters in Birmingham AL, but we also provide pressure washing, painters in Birmingham AL, masonry services, and home remodeling. No matter your dreams for your home or place of business, Under One Roof can help you achieve them. Many of our customers are repeat customers who trust us to complete any of these construction services with a high degree of care. We hope you'll join them! You can also visit our About Us page to know more about our Birmingham roofing company.
Our employees put us a step above the rest. We don't simply hire a new crew every few weeks. Instead, we treat our contractors right and keep a consistent pool of talent. All of our contractors have experience and training in the specific skills needed for whatever project you have in mind. We like to know that the people we send to your door are attentive to detail, efficient, professional, and trustworthy. We invest ourselves in our workforce so they can invest themselves in your home projects!
Under One Roof also strives to be competitively priced. Making updates to your home to keep it safe and beautiful is always an investment. Keeping your home beautiful increases your curb appeal and your resale value. And of course, keeping up to date on maintenance and repairs saves you time and money down the line. However, we want to keep our prices as competitive and reasonable as possible. Because of this, we offer free estimates for every kind of service. As a homeowner or business owner, you'll know the exact extent and cost of the undertaking ahead of time. Our billing department has worked with many insurance companies, policies, and warranties to ensure your billing experience is smooth and seamless.
Finally, we provide excellent customer service. We strive to be as neighborly as we are professional. Our goal is to have every customer become a longtime, returning customer. We are serving Birmingham and offer a wide variety of services "Under One Roof," so we hope that if you loved our work on your roofing Birmingham AL project, you'll give us a call when your living room needs a fresh coat of paint.
If you're looking for attention to detail, unmatched skill, and fantastic customer service at competitive prices, we know you'll be satisfied with Under One Roof. Contact us today to take advantage of your free estimate and we can also answer a few questions. We're excited to get started on that project you've been dreaming about for your home or business! You can also check out our partners over at Plumbers of Renton for the absolute best plumber Renton WA
One Call, We Do
Roofing!
Painting!
Pressure Washing!
Siding!
Gutters!
Masonry!
Home Repair!
It All!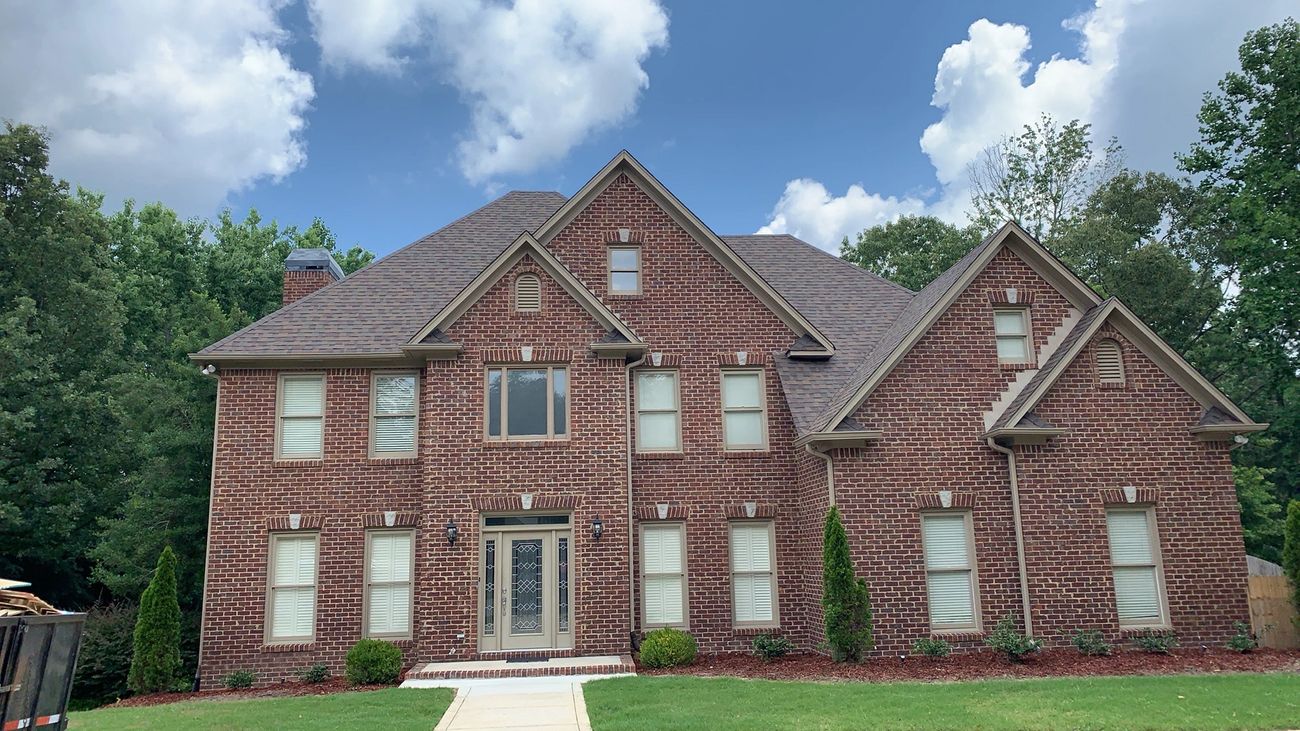 #1 Rated Roofing Birmingham AL
Your home is your family's castle. Make sure it's protected against the elements with a strong, watertight roof. When you need a roof replacement, repair, or installation, call Under One Roof for roofing Birmingham AL services! Our expert crew will have your roof looking and performing its best in no time.
If you're a homeowner, an investment in your roof is an investment in your future. A high-quality, professionally installed roof protects you and your family from wind, snow, and excess heat. It also increases the value of your current home if you're looking to resell it in the future. Finally, when it comes to roofing, an ounce of prevention is worth a pound of cure: minor damage and wear to your roof can become bigger, more expensive problems down the line if not addressed. Investing in roofing repair Birmingham AL can save you time, money, and hassle in the long term.
Our roofing contractors Birmingham AL at Under One Roof have the professional experience, attention to detail, and industrial-quality materials to ensure your home will be protected. Safety is crucial, so our safety, training, and equipment are always kept up to date. Our neighborly customer service will ensure that you feel like you've been a customer for years. Finally, we accept a wide range of insurance plans and companies so that your payment will be as affordable and hassle-free as possible.
Whether you're looking for roofing companies in Birmingham AL to repair or replace, we promise to deliver a prompt, competitive quote for our services so you can feel confident about selecting a service that fits your needs, plans, and budget.
The Best Painters In Birmingham AL
Your neighbors will be jealous! Keep your home the most beautiful on the block with a fresh coat of paint or pressure washing. Under One Roof offers interior and exterior painting for both residential and commercial buildings. We know you'll be satisfied with the high-quality work of the best painters in Birmingham AL.
We offer our experience in residential painting for painting interior and exterior walls, brick, stucco, wooden structures, and ceilings. You can call Under One Roof for a job of any size. Maybe you're looking to brighten up the laundry room with a fresh coat of paint. Maybe you've just bought your first home and you'd like a new color for each room. No matter your plan or specifications, our crews can bring your vision to life.
If you need painting for a commercial project such as offices, condominiums, schools, or churches, we'll ensure the work is detailed and consistent throughout. Our high-quality products and techniques will last beautifully through time and commercial use.
Our painting crew includes several long-term professional employees. This ensures we'll have the right size crew (with the right expertise) to complete the painting or pressure washing job. With Under One Roof, rest assured that the work will be done the right way the first time, on schedule, and within budget.
As with all our work, we're happy to provide you with a free estimate for that painting or pressure washing Birmingham AL project you've been dreaming of. We know you'll be happy with our work!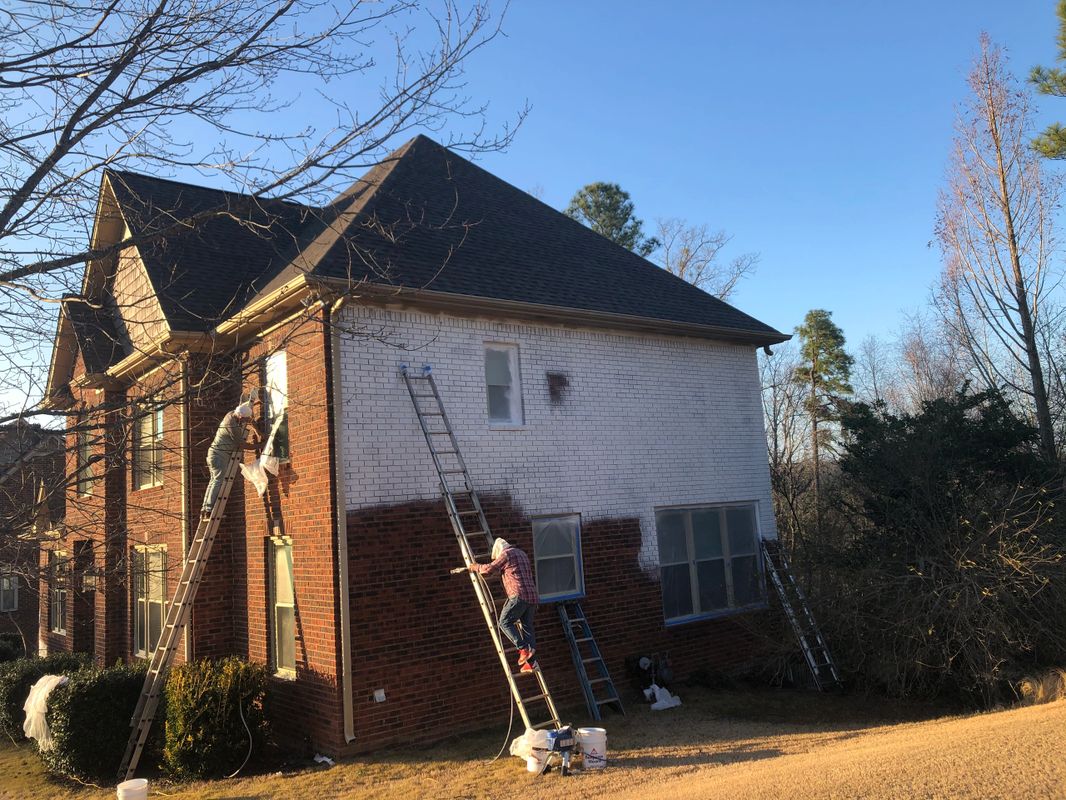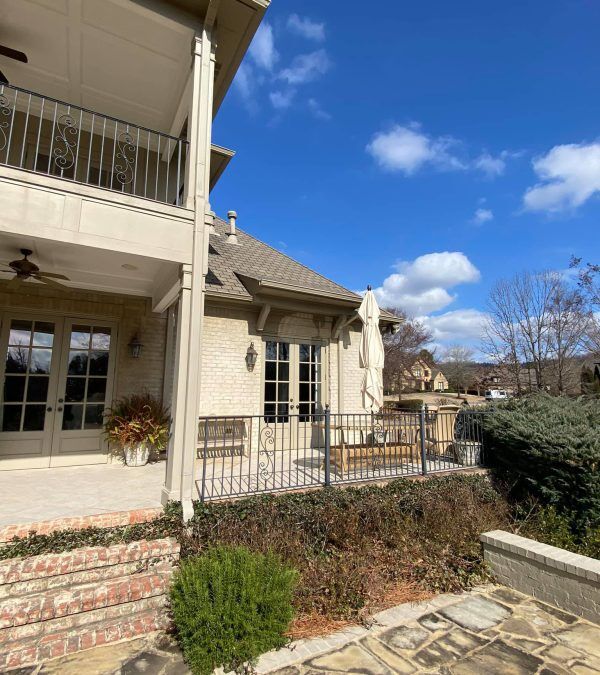 Your Go-To For Gutters In Birmingham AL
Gutters have several important jobs. They direct water off your roof and away from your home to prevent flooding and other water damage, especially in basements. Gutters also prevent potentially dangerous ice sheets and icicles from forming on your roof. Keeping your gutters in tip-top shape can protect your family and your home from mold, water damage, and ice. It can also save you money and time in the future by preventing flooding or damage to your home's foundation.
Under One Roof can repair and install your gutters Birmingham AL. We also offer skilled gutter cleaning to keep gutters free of clogging leaves and twigs.
Our tradesmen have ample experience installing gutters, gutter guards, and downspouts on a wide range of residential and commercial buildings. Our crew will help you determine the best plan for the specific building, rainfall, and drainage system. Rest assured that your gutters will be installed right the first time, on time, and within budget.
A quick inspection can reveal whether your gutters need to be replaced or if you just need our gutter cleaning Birmingham AL service. Are they falling or pulling away from your roof? Do they look uneven, cracked, or rusted? Have you noticed water pooling in your basement or around your foundation? These can all be signs of wear and damage to your gutters.
Contact Under One Roof today! We can perform a detailed inspection and get you free project cost information. Rest assured your new or repaired gutters will be keeping your home safe and dry in no time.
Top-Notch Siding Birmingham AL
Keep your home or business looking great with beautiful, high-quality siding. The professionals at Under One Roof will give your vinyl siding a hassle-free update.
If you're building, consider siding for your new home or business. Good siding is a durable, low-maintenance option that can be installed and replaced with ease. Give your home's exterior an efficient, snappy update!
Why choose vinyl siding Birmingham AL for your home? It's more affordable and less time-intensive than repeated paint jobs. Vinyl siding also keeps its vibrant color longer. Siding also adds a layer of insulation to your home, meaning you save energy and money on heating and cooling. The vinyl is also waterproof to protect your home from damaging moisture. With minimal care, the siding will continue to look beautiful for years.
Repairing and updating siding also has its advantages. If your original siding is rotting, cracking, or warped by heat, it's time for an update. Stripping the original siding exposes the underlying walls and foundation. Our contractors will take this opportunity to check for water leaks or damage that may have been hidden. Additional repairs may be recommended in these cases.
Call Under One Roof for a free estimate for your siding Birmingham AL project. Our crew of tradesmen will work efficiently to get the job done right the first time. Our business office has worked with a variety of insurance companies and warranties to bring you a streamlined experience. We hope you'll consider us for your upcoming siding project!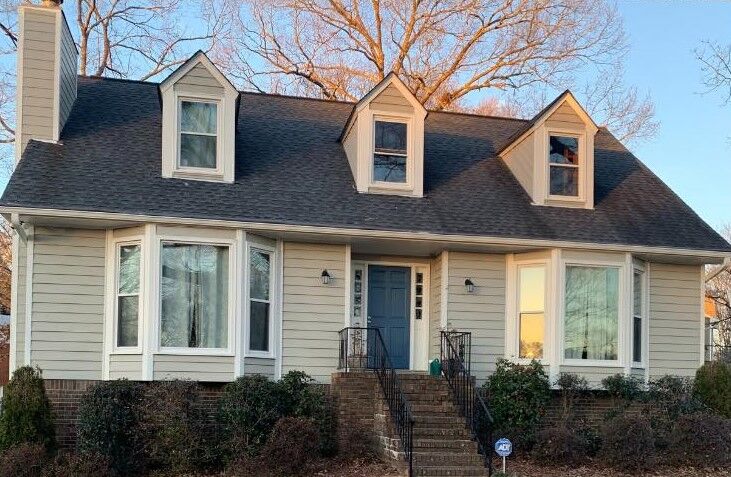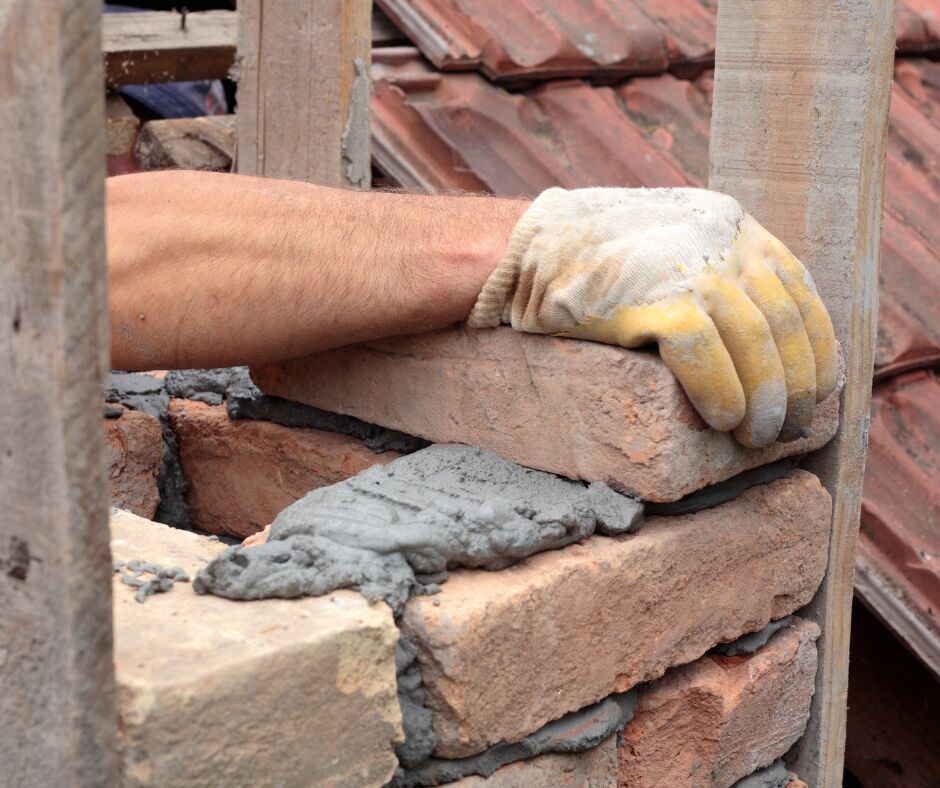 Professional Masonry Birmingham AL
When it comes to brick and mortar, Under One Roof has you covered! Our professional masonry covers a wide variety of projects for your home, business, or outdoor space. Whether you need new construction, repair, or restoration, our masonry services are sure to improve your home. Investing in masonry improves the appearance of your home for years to come! It also improves the resale value of your home or business.
We offer new construction that lasts! If you've been dreaming of a new chimney or fireplace, give us a call. Our team of masonry local contractors and building contractors have ample experience building new interior structures that will last a lifetime.
We can also do new construction of exterior structures that will hold up to time, weather, and wear. Our team can help bring that new back patio or set of back stairs to live. We can also install yard structures such as a retaining wall Birmingham AL. Retaining walls can be beautiful and practical! You can use it to showcase different flowers and plants or simply to prevent soil erosion in your yard.
Have you had masonry services done in the past? Want to repair it or keep it protected? Under One Roof can help. Our contractors offer a wide range of repair and restoration options for your home or business for your brick, stucco, or historical masonry. If your existing structures are crumbling, cracking, or coming loose, it may be time to call for a chimney repair Birmingham AL. We also specialize in restoring any beautiful historical masonry you want to preserve.
Reliable Home Repair Birmingham AL
Being a homeowner takes a lot of work. If you've owned a home for a long time (or if you're particularly handy!) you might do minor work around your home when something breaks or remodeling to customize your home. However, some jobs require time, effort, or training that not everyone has! If you'd like assistance with your next project, big or small, you can always call us to get the job done right. If you need home repair Birmingham AL, Under One Roof can help.
We have a wide range of talented contractors to fit your project's needs! We can provide any of the following home repairs:
Drywalling and painting
Handyman construction services for appliances
Home inspection repairs
And more!
If you're looking to upgrade your home, we can provide these options for home remodeling Birmingham AL:
Bathroom remodeling
Kitchen remodeling
Heating and cooling replacement
Door and garage door installation
And more!
If you don't see your repair or remodel on these lists, give Under One Roof a call today. We can provide you with a free estimate on your home or local businesses so you'll know exactly what your project will cost ahead of time.
This year, let us take care of that home repair that's been on your list for a while. Outsourcing your repair or remodel to professionals can save you time, energy, effort, and peace of mind. You'll know that it's done right and that our work will stand the test of time. You can also visit our About page to know more about our company.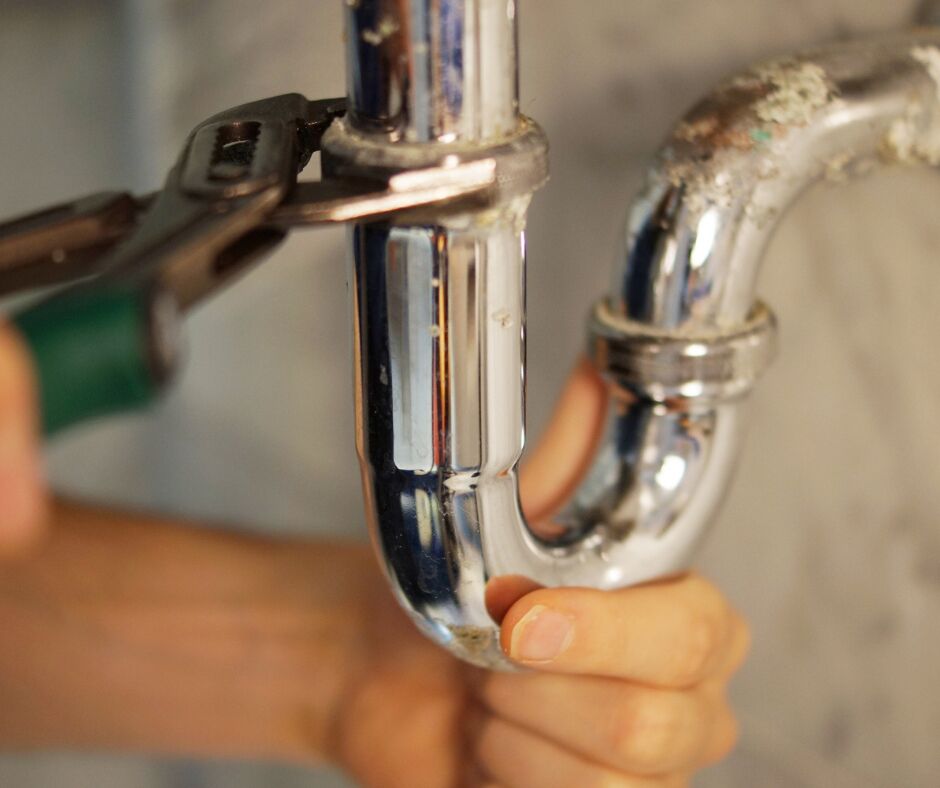 Home Improvement Done Right
Choose the service that fits your needs and we will make sure to provide you with a competitive quote. As your one-stop-shop, we pride ourselves on clear communication and customer relations. Click "get a quote" below to get a free, no-hassle quote for your next project.